The Australian housing market finished the financial year strongly, increasing by 1.1% in June according to CoreLogic's national Home Value index.
All capitals except for Hobart (-0.3%) recorded growth for the month, with Sydney the standout with a 1.7% monthly increase. Brisbane was not far behind (1.3%) followed by Adelaide (0.9%), Perth (0.9%), Melbourne (0.7%), Darwin (0.5%) and Canberra (0.4%).
The regions also performed strongly with only regional Victoria (-0.4%) and Tasmania (-0.3%) recording a reduction. Regional Queensland and South Australia performed best, with both recording a 1% increase. Regional New South Wales and Western Australia also saw a modest increase of 0.3%.
The particularly strong performance over the past two months resulted in very favorable quarterly results, with all markets except for Darwin and regional Victoria experiencing growth.
Auction numbers continue to be bellow that of last year, with 1,530 auctions taking place on the first weekend of July, down from 1,881 in the previous year. This further highlights the lack of supply in the housing market, with all capital cities recording fewer auctions than the same weekend of 2022.
Sydney recorded the most auctions with 696 taking place with Melbourne not far behind with 517. Brisbane, Adelaide, Canberra and Perth recorded significantly fewer auctions with 132, 111, 68 and 6 respectively. There were no auctions held in Tasmania, however there was also only 1 auction on the same weekend last year.
This lack of supply is resulting in higher than usual clearance rates, with the weighted average clearance rate of 70.3% for the weekend, up from 53.2% in the previous year. Once again, clearance rates are higher across all capital cities than last year, with Adelaide performing the strongest at 81.8% (up from 65.4% last year). Sydney (71.2%), Melbourne (70.2%), Brisbane (64.3%) and Canberra (60.5%) all performed strongly and well above previous years results of 49.9%, 55.8%, 45.2% and 52.9% respectively.
Clearance Rates & Auctions 26th June - 2nd of July 2023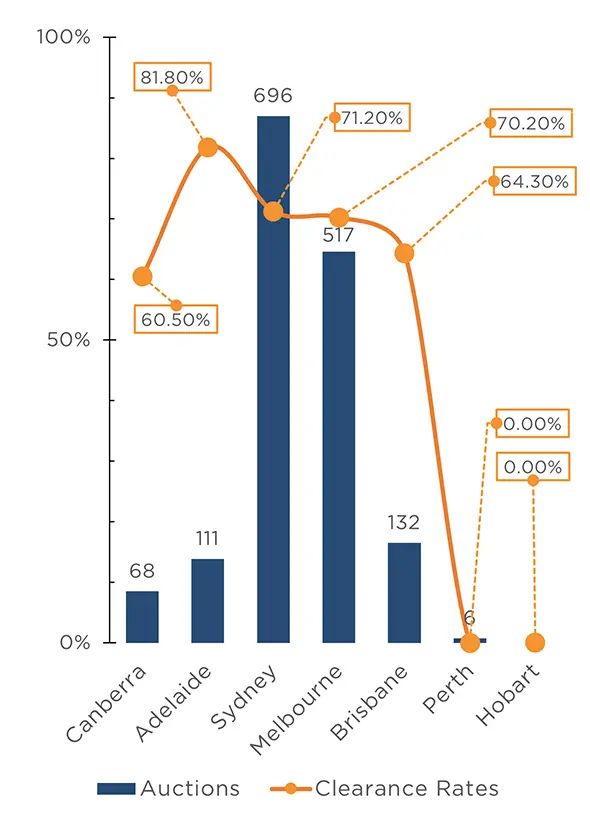 Property Values as at 30th of June 2023
Median Dwelling Values as of 30th of June 2023
Quick Insights
Crucial Approvals
In May, there was a significant increase in home lending and building approval figures.
Home lending grew by 4.8%, reaching $24.9 billion, while loans for established dwellings rose by 4.2%, reflecting the growth of house prices. Sydney house prices have recovered by 6.7% since January, with a slight slowdown in June (1.7% growth compared to 1.8% in May).
Analysts originally cautioned that while there are strong gains in lending and building approvals, further rate increases may impede the housing market recovery, the recent RBA decision may have winnowed these concerns.
Source: Australian Financial Review
Rebounds & Returns
Sydney house prices have rebounded by 6.7 per cent since bottoming out in January, as low stock levels continue to collide with solid demand, CoreLogic's June home value index shows.
A lack of supply and strong population growth continue to put upward pressure on home values despite higher interest rates.
Housing values nationwide increased by 1.1 per cent in June, marking the fourth consecutive month of recovery, although it was a slight slowdown from the 1.2 per cent growth in the previous month.
Source: Australian Financial Review
Author: Filippo Sciacca, Director - Investor Relations, Asset Management and Compliance