Australian housing values appear to have stabilised, with a second consecutive monthly increase as CoreLogic's national Home Value Index rose by half a per cent.
The capital cities performed strongly, with Sydney leading the way with a 1.30% increase for the month, followed by Perth (0.60%), Brisbane (0.30%), Adelaide (0.20%) and Melbourne (0.10%). Canberra and Tasmania remained stable, whilst only Darwin recorded a decrease in values, with a 1.20% reduction.
Similarly, the regions have also performed quite well, with South Australia seeing a 0.90% increase, followed by Queensland (0.80%) and Western Australia and Tasmania, both increasing by 0.10%. Only regional Victoria and New South Wales experienced a reduction in values, of 0.40% and 0.30%, respectively.
Auction activity remained low in April, with volumes down by approximately 25% when compared to last year. Persistently low levels of residential property coming to market remains a key factor in supporting housing values. The rolling four week trend during April was around 14% below the previous five year average in new listings for April. Whilst numbers were down, clearance rates remained robust.
With the decision of the RBA to once again increase the cash rate by a further 0.25% following last month's pause, the outlook for the property market remains stable but with future growth potentially constrained. Whilst we are yet to see the full impact that the rate rise cycle has had on household cashflows, foreign buyers are returning and the labor market remains tight which should keep prices stable.
Clearance Rates & Auctions 17th - 23rd of February 2023

Property Values as of 1st of May 2023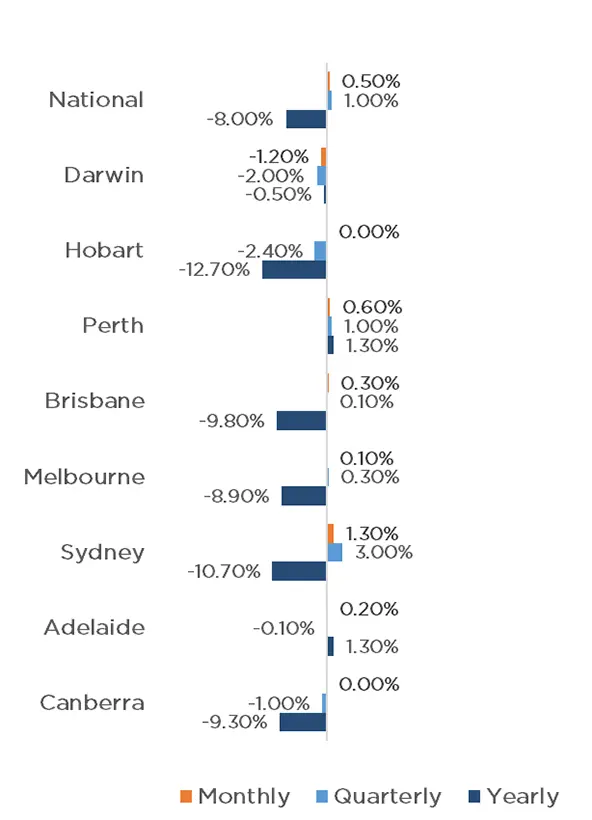 Median Dwelling Values as of 1st of May 2023

Quick Insights
FOMO
Despite some uncertainty created by the RBA's recent decision to increase rates, some homebuyers have not been deterred.
Dr Nicola Powell, Chief of Research and Economics from Domain, recently said, "I think the improvement in confidence that stabilised the market will be enough to sustain the market recovery. " Sydney resident and homebuyer Scott Gardiner had this to say, "I could see that prices have started to move since January, and very soon, there will be more buyers in the market, so I decided to buy as soon as I got my mortgage pre-approval."
Mr Gardiner just settled on a $725,000 Newcastle investment home. Sydney-based real estate agent Jack Henderson said some buyers are starting to feel some urgency as competition heats up. "After seeing 10 rate rises having less impact on house prices than people expected, people are becoming more confident."
Source: Australian Financial Review
Housing Heroes
New research by McCrindle Research for the Finance Brokers Association of Australia has revealed that due to higher interest rates more than 60% of homeowners have cut back on leisure and social activities to manage higher repayments. Another 28% said they took on more work and 30% said they were considering it.
These homeowners are now being credited for reversing the property slide by cutting back on non-essentials instead of selling. Tim Lawless, Director from CoreLogic said that borrowers falling behind on mortgage repayments, which usually trigger distressed selling, remained low at just 0.4% of all loans.
"We haven't seen any evidence that distressed home sales have become a feature of the housing market. A lack of sellers, let alone motivated sellers, is likely to be a key factor that has supported housing prices" Mr Lawless said.
Source: Australian Financial Review
Women & the Home Guarantee
Housing Minister Julie Collins has expanded the eligibility criteria for three home buyer schemes to include those who have not owned property in Australia in the past 10 years. The policy has been aimed at older women who may have lost their home in a divorce or separation.
"We know divorce is often a reason people lose their home, particularly women," Grattan Institute economic policy program director Brendan Coates said. Of women who separate from their partner and lose the house, just one in three buy a home again within five years, and only 44 per cent again within 10 years. The changes hope to address this issue.
Source: Australian Financial Review
Author: Filippo Sciacca, Director - Investor Relations, Asset Management and Compliance