10k Words
Equitable Investors
April 2023
---
Funds continue to flow into equities despite recent volatility and recession fears, with Barclays noting fund flows lag performance. Performance is highly correlated with money supply, notes GLJ Research, and central bank liquidity may actually have been increasing lately according to Citi Research. The "Buy the Dip" mantra helps, as Bloomberg charts this strategy's recent success. Despite equity markets holding up, capital raising remains suppressed relative to dealogic's 2020 and 2021 figures. WSJ highlighted aerospace and defence technology as an area where there does appear to be strong capital flows. US banks, however, have seen deposit outflows, as charted here by Reuters. Margins have blown out on ASX-listed debt and hybrids, as per Bell Potter charts, which are largely issued by banks and financials. Bond market volatility is at historically high levels as seen from Bespoke and FT charts. Back in equities, the concentration of major indices stands out and Equitable Investors has pulled together top ten stats. The S&P 500 would have been down in March without "big tech", eToro highlights.
US households supporting flows to equities despite recession risk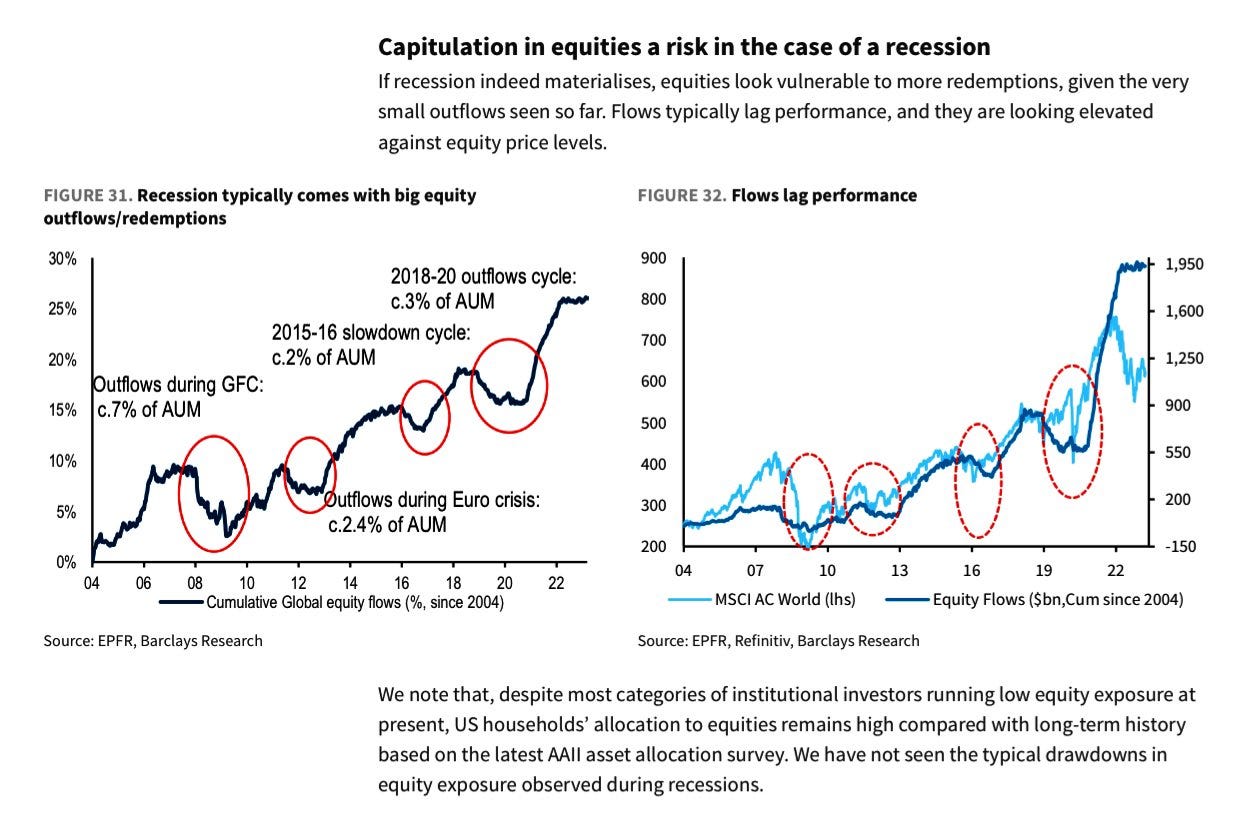 Source: Barclays Research
Money Supply (M2) has high correlation with S&P 500
Source: GLJ Research
Global central bank liquidity has been increasing according to Citi Research
Source: Citi Research, Bloomberg
2023 shaping up as the second best year for dip-buying strategy
Source: Bloomberg
Global equity capital raisings by quarter ($US)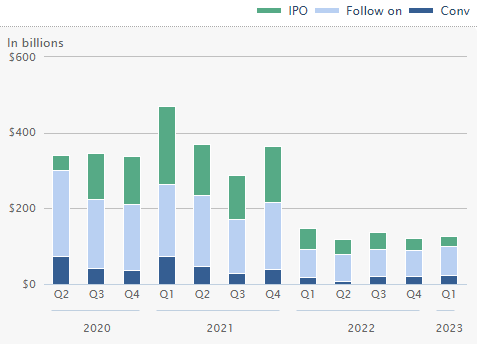 Source: WSJ, dealogic
Australasia equity capital raisings by quarter ($US)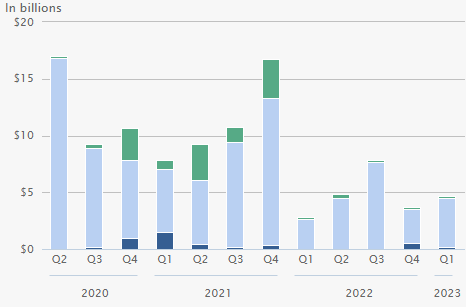 Source: WSJ, dealogic
US VC deal activity in aerospace and defence technology
Source: WSJ, PitchBook
US bank deposits
Source: Reuters
Trading Margins on ASX Listed Debt and Hybrid Sectors (27 Mar)
Source: Bell Potter Research
US Two-Year Bond Yield - Four Week Average Daily Move
Source: Bespoke Investment Group
ICE BofAML MOVE Index (US bond market implied volatility)
Source: FT, Refinitiv
Top 10 Nasdaq 100 components = 55% weighting
Source: Equitable Investors, SlickCharts
Top 10 S&P 500 components = 27% weighting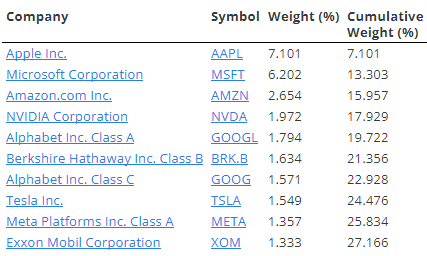 Source: Equitable Investors, SlickCharts
Top 10 iShares Core S&P/ASX 200 ETF components = 46% weighting
Source: Equitable Investors, Iress
S&P 500 performance without "big tech"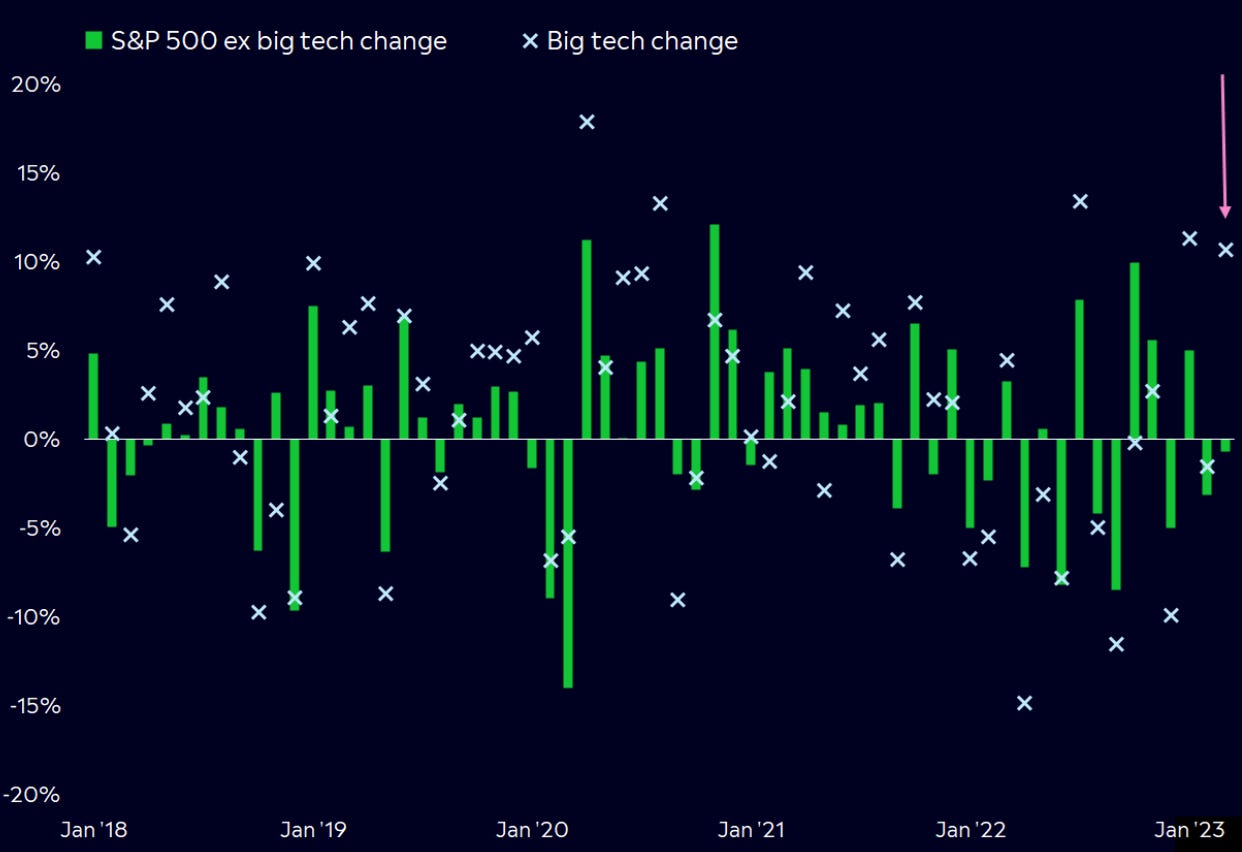 Source: eToro, Bloomberg
April Edition
---
Funds operated by this manager:
Equitable Investors Dragonfly Fund
---
Disclaimer
Nothing in this blog constitutes investment advice - or advice in any other field. Neither the information, commentary or any opinion contained in this blog constitutes a solicitation or offer by Equitable Investors Pty Ltd (Equitable Investors) or its affiliates to buy or sell any securities or other financial instruments. Nor shall any such security be offered or sold to any person in any jurisdiction in which such offer, solicitation, purchase, or sale would be unlawful under the securities laws of such jurisdiction.
The content of this blog should not be relied upon in making investment decisions. Any decisions based on information contained on this blog are the sole responsibility of the visitor. In exchange for using this blog, the visitor agree to indemnify Equitable Investors and hold Equitable Investors, its officers, directors, employees, affiliates, agents, licensors and suppliers harmless against any and all claims, losses, liability, costs and expenses (including but not limited to legal fees) arising from your use of this blog, from your violation of these Terms or from any decisions that the visitor makes based on such information.
This blog is for information purposes only and is not intended to be relied upon as a forecast, research or investment advice. The information on this blog does not constitute a recommendation, offer or solicitation to buy or sell any securities or to adopt any investment strategy. Although this material is based upon information that Equitable Investors considers reliable and endeavours to keep current, Equitable Investors does not assure that this material is accurate, current or complete, and it should not be relied upon as such. Any opinions expressed on this blog may change as subsequent conditions vary.
Equitable Investors does not warrant, either expressly or implied, the accuracy or completeness of the information, text, graphics, links or other items contained on this blog and does not warrant that the functions contained in this blog will be uninterrupted or error-free, that defects will be corrected, or that the blog will be free of viruses or other harmful components. Equitable Investors expressly disclaims all liability for errors and omissions in the materials on this blog and for the use or interpretation by others of information contained on the blog