Property Values as at 31st of March 2023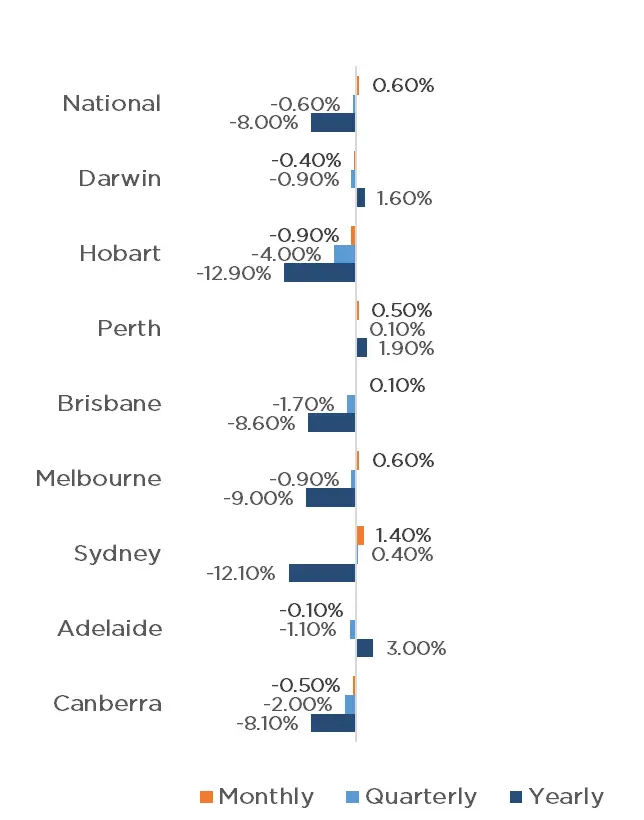 The property market continues to show signs of recovery, with CoreLogic's National Home Value Index posting the first month-on-month increase since April 2022, with values up 0.60% for the month of March.
This monthly growth was driven by strong results in Sydney, with values increasing 1.40% for the month. This figure has been impacted heavily by housing values in the most expensive quarter of Sydney's market up 2.00% and unit values also up 1.40%. Results across Melbourne, Perth and Brisbane were also positive, with the capital cities recording growth of 0.60%, 0.50% and 0.10% respectively. Adelaide (-0.10%), Darwin (-0.40%), Canberra (-0.50%) and Tasmania (-0.90%) however all recorded reductions in value.
Clearance Rates & Auctions 20th - 26th of February 2023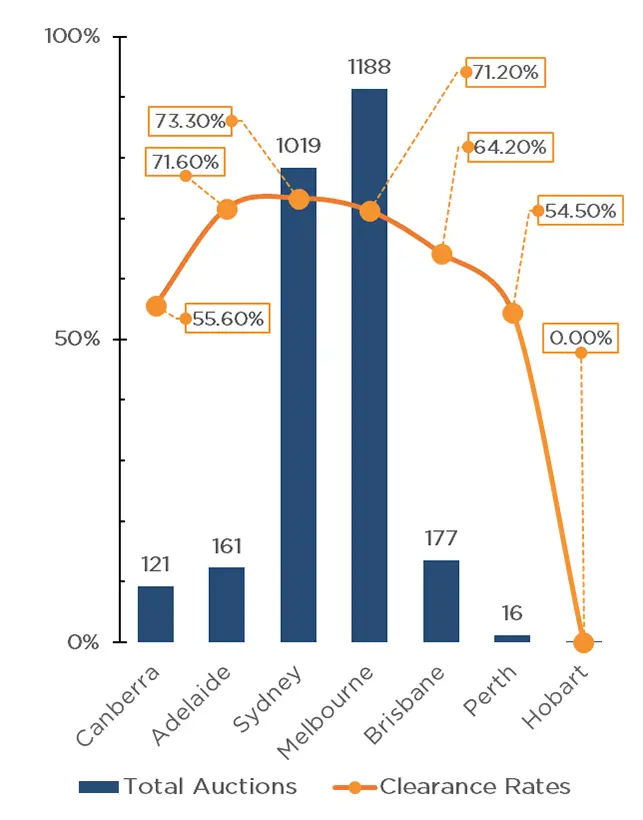 The week before Easter brought the busiest auction week of 2023 thus far, with 2,685 properties going to auction, up 16.60% on the previous week, however still 16.30% below that of last year (3,209). Melbourne led the way with 1,188 auctions taking place, followed closely by Sydney with 1,019. Brisbane, Adelaide and Canberra which all saw significantly fewer auctions, with 177, 161 and 121 respectively.
In addition to strong auction volumes, clearance rates have continued to improve, with Sydney, Adelaide and Melbourne all receiving above 70.00% clearance rates with 73.3% (63.8% last year), 71.6% (79.1% last year) and 71.2% (67% last year) respectively, contributing to a 70.7% weighted average, up from 66.8% last year. Brisbane also recorded a clearance rate of 64.2% (65.9% last year), however results across Canberra and Perth were well down on last years values, with 55.6% (73.3% last year) and 54.5% (64.7% last year) respectively.
With the RBA opting to leave the cash rate unchanged in their April meeting after 10 consecutive increases, some relief is now given to existing mortgage holders, whilst also providing some comfort for those looking to enter the market. In line with previous forecasts, we believe buyer demand is likely to continue to increase throughout the year and into 2024.
Median Dwelling Values as at 31st of March 2023

Source: CoreLogic, Report, Article
Quick Insights
Australia faces huge housing shortfall as new home sales slump
A dramatic slump in new home sales will exacerbate the national rental and affordability crisis and put further pressure on the ability of new housing supply to meet future demand, the Urban Development Institute has warned in its latest State of the Land report. According to the benchmark report, over the 2022 calendar year, greenfield lot sales almost halved and settled apartment sales fell to their lowest level since the global financial crisis as buyer demand plummeted, all due to higher interest rates, surging construction work, and fears about builder failures.
Source: Australian Financial Review
Walk-in buyer interrupts auction, takes house sight unseen
A four-bedroom house with a pool located in Floreat, Western Australia, sold at auction for $1.7 million. There were a lot of interested parties - 10 registered bidders but only three were active bidders. Right at the tail end of bidding, as things were starting to simmer down, someone walked in and asked if they could quickly register. She'd never seen the home. She walked straight into the backyard and said "I like this house." and within minutes she purchased the property.
Source: Australian Financial Review
Infrastructure Victoria urges Andrews to scrap stamp duty
Stamp duty should be scrapped and replaced with a broad-based land tax according to Infrastructure Victoria In a landmark report it also warned that transport and amenities are struggling to keep pace with suburban sprawl and density needs to increase in existing suburbs. The report calls for the government to fast-track planning approval for more high-quality, three or four-bedroom townhouses and better standards for family-friendly low-rise apartments, to reverse the trend of families continuing to move to bigger blocks in newly created outer suburbs.
Source: Australian Financial Review
Author: Filippo Sciacca, Director - Investor Relations, Asset Management and Compliance