---
March 8 is International Women's Day - a day for celebrating the social, economic, cultural, and political achievements of women around the world. It's also a day when calls for accelerating gender parity are most vocal.
This year's focus is on 'equity' - the idea that people are all different, and that to be 'fair', people will need different types of assistance to reach their potential.
Our A Woman's Place research series showed that higher female participation in the workforce isn't just ethical, it's also a solution to lacklustre economic growth in the developed world.
We created the Gender Equality Index (GEI), as part of this series, to assess the levels of gender equality in 29 Organisation for Economic Co-operation and Development (OECD) countries.
Leaders, laggards
Perhaps not surprisingly, Nordic countries - Sweden, Denmark, Norway and Finland - continue to top the ranking in the latest GEI update, a reflection of those countries' long history of progressive social policies that give women there more choices (See Chart 1).
Chart 1: Scandinavian countries hold onto top spots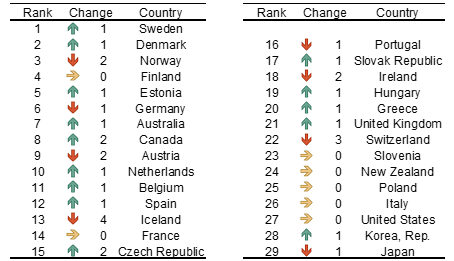 Source: abrdn, World Bank, OECD, VDEM, as of 2023
Bringing up the rear are Italy, the US, South Korea and Japan - again there was little change in this part of the table. Women in the US still have limited maternity leave relative to their peers, while Japan and South Korea lag in terms of female empowerment.
Covid slowed progress
As these countries emerge from almost three years of pandemic-induced social and economic disruption, the index uncovers a slowdown in female-employment rates in several economies.
Here are two reasons why:
Covid job losses affected women more than men. During previous economic downturns men usually bore the brunt of higher unemployment. These were often driven by industrial, rather than services-led, slowdowns.
But during Covid, the female-unemployment rate remained higher than that for men. That's because those sectors most affected by pandemic lockdowns were ones in which women are overrepresented.
Women were forced to reduce hours and leave the workforce to care for families. Women typically have disproportionately more care responsibilities than men.

In the early stages of lockdowns, average paid working hours for women fell 16.4% (compared to a 14.9% fall for men) amid the closure of formal childcare facilities and as women cared for adult relatives (See Chart 2).
Chart 2: Women's working hours fell more than men's during the initial Covid wave
Source: OECD, as of 2020
As a result, the average female labour force participation rate remains below the pre-pandemic rate.
The average female labour force participation rate remains below the pre-pandemic rate
On the bright side
However, it's not all bad news. The index also shows that:
Men are spending more time on childcare. Many men now spend part of their week working from home and share more childcare duties.

How long this will last is debatable, but studies have shown that after periods of parental leave, men's participation in childcare duties tends to remain higher.

More flexible work may be positive for female-labour participation. Flexible working arrangements may help women remain in the workforce despite uneven care burdens.

However, there's a cost to more flexibility in the form of obstacles to career advancement - reduced mentoring, training, and access to promotion. This, if unaddressed, may even lead to further widening of the gender pay gap.
Final thoughts
The pandemic has shone a light on the structural inequalities that exist within societies and economies. However, much more needs to be done to systematically address these issues.
For example, caregivers' leave - a temporary Covid-era policy - could be made permanent to address the unequal distribution of responsibilities placed on women.
Improving access to caregiving and increasing flexibility in the labour market are key to retaining women in the workforce.
Understanding the extent to which the lasting effects of the pandemic have improved, or worsened, labour market inequalities will take time. But the GEI is one tool we can use to do so.
Author: Abigail Watt, Research Economist, Research Institute