China re-opening post COVID
4D Infrastructure
February 2023
---
While it was always a matter of when (not if) China would reopen, the abrupt change in stance has reaffirmed and brought forward multiple domestic and global investment opportunities, and could also support a global economy that was rapidly weakening.
In this article, we summarise key policy changes, the improving macro outlook, and what the reopening of the world's second biggest economy means for global listed infrastructure investors.
COVID-zero policy
On December 26, 2022, China's National Health Commission (NHC) announced that its COVID prevention and control management would be downgraded from class A (covering bubonic plague and cholera) to class B (SARS, AIDS, anthrax), effective from January 8, 2023. Class B relinquishes the power of local authorities to quarantine patients and close contacts, and lock down regions.
Since dismantling its zero-COVID policy, China has been grappling with what's shaping-up to be the biggest COVID outbreak ever seen. By mid-January, many local authorities had indicated that daily cases had passed the peak. However, we anticipate an uptick in cases following the Lunar New Year holiday, particularly in country and rural areas. It remains unclear just how severe and widespread the outbreak is, given the government stopped universal testing and changed how it defines COVID mortality.
Additionally, the abrupt policy change caught many domestic operators off guard, preventing immediate normalisation of business activity to pre-COVID activity levels. These impediments include labour disruptions (either through infection or re-training requirements), capacity and/or services shortages, entry restrictions imposed by other countries, and passport renewals/visa applications. While this may weigh on sentiment and economic activity in the near term, we expect pent-up demand, willingness to spend and policy support measures to continue to reduce bottlenecks and drive a consumption-led rebound in economic activity relatively quickly.
The Chinese roadmap to reopening post-congress
Improving macro outlook - in country and global
China held its annual Central Economic Conference in late December 2022. Emerging from the conference, policymakers set sights on growth in 2023. Officials called for targeted and forceful monetary policy and strengthened fiscal policy. The aim is to expand domestic demand, with priority given to employment, and boosting consumption.
Despite no official nationwide economic growth target being set, most provinces, municipalities and autonomous regions have unveiled their GDP growth targets for 2023, with rates ranging from 4.0-9.5% and an average of 5.95%. Consumption, investment, stimuli and policy are core pillars of the rebound. Most targets remain above the forecasts by foreign institutions and agencies, which range between 4.5-5.5%, although we have recently seen upward revisions to these following the re-opening. (Notably, IMF increased its growth forecast to 5.2% in late January-23 from 4.6% earlier projected in November-22).
At 4D, we look for the underlying data and other proxies that support the headline growth numbers. Specific to infrastructure, these include expressway traffic, railway patronage, airline passengers, gas & electricity consumption, port throughput data and plant utilisation rates. Outside of infrastructure, data includes retail sales, new car sales, new property development and sales. We accumulate and amalgamate this data as a thermometer to gauge economic activity. 
The re-opening of China could also benefit a world anticipating its own domestic slowdown. For example:
Stimulus will increase demand for global products such as iron ore and steel;

We're expecting a second wave of global travel in 2023, as 140mn people (10% of the Chinese population with passports) who have been largely locked down for three years are allowed to travel.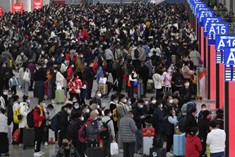 Xinhua News Agency - Passengers crowded at the North Railway Station, Shenzhen waiting to cross into Hong Kong as cross-border services resumed for the first time since January 2020
Infrastructure sector
Investment in infrastructure has been a key pillar of China's stimulus plan for decades, supporting and boosting economic growth in times of need, such as post the GFC and, more recently, throughout the pandemic. Fixed asset investment increased 5.1% to CNY57.2 trillion in 2022, up from 4.9% in 2021 and 2.9% in 2020.
The table below summarises the opportunities across the key infrastructure sub-sectors from re-opening and related policy/stimuli at both a domestic and international level.
The Chinese roadmap to reopening post-congress

On forward earnings estimates, despite the recent market rally, we highlight that Chinese listed infrastructure names remain undervalued, trading well below pre-pandemic levels and 5-year averages. Undemanding valuations and strong tailwinds in 2023 set the stage for a strong re-rating. 
Source: Bloomberg
Conclusion
Infrastructure will be both a key driver and a beneficiary of China's reopening, and the central government's focus on increasing domestic consumption and economic recovery. We anticipate more stimulus and policies promoting growth over the coming months, particularly post the plenary National People's Congress in March. This will bring forward the infrastructure investment needed to support the emerging middle class, continued urbanisation, decarbonisation goals and wealth equality.
The reopening has a wide-reaching impact, fostering multiple tailwinds not just within China but across our larger global listed infrastructure universe. At 4D we are capitalising on this via direct investment in China (toll roads, gas operators and ports) as well as at a global level  (second wave for airports, midstream in the US and commodity transportation in Brazil, North America).