---
If there was a year in investment markets where swearing was justifiable, 2022 would be a great candidate. The FT shows us swearing reached new heights on company conference calls. Maybe swearing in 2023 will find a new peak as the feeling of greater uncertainty remains - just look at the IMF's plot. Gartner's estimate of a 28.5% year-on-year decline in global PC sales may cause a few to swear, at least privately. Net flows into tech, as charted by JP Morgan, were hammered right through to the end of 2022. Of course it was the unprofitable segment of tech that Charles Schwab's @LizAnnSonders shows taking the most heat. We can also see that pain in the price/sales multiple contractions highlighted by The Macro Compass' @MacroAlf. There can be no doubt the cost of capital has jumped - Professor Damodaran's expected equity return estimate has increased >4% while Bloomberg's negative yield bond chart lost its last member. Two different schools of thought fight it out over what the Fed needs to do to curb inflation - CLSA shows that when US inflation has spiked above 5%, the Fed had to lift rates to "within spitting distance" of the inflation peak; but DoubleLine is backing the bond market's lower implied rates over the Fed's expectations. Economist @C_Barraud picked up on the decline in Australian house prices as borrowing costs surge. Credit card rates are surging too, as per FRED data, and re: venture consulting sounded the alarm on personal savings in the US diving. The cost of debt is also a growing problem for governments, @CharlieBilello highlights. Looking forward to reporting season, Bespoke sees market expectations in the US have been pulled back across almost all sectors. FactSet's aggregate of S&P 500 earnings estimates shows a 3.9% decline is now the consensus for the December quarter - but the actual earnings growth rate has exceeded the estimated earnings growth rate at the end of the quarter in 38 of the past 40 quarters. Finally, some good news - chart brought to our attention the progressive healing of the ozone layer.
Bull market in swearing - frequency of swearing on conference calls

Source: AlphaSense, Financial Times
World Uncertainty Index - Ukraine invasion spike in red
Source: IMF
Global PC shipments in December quarter of CY2022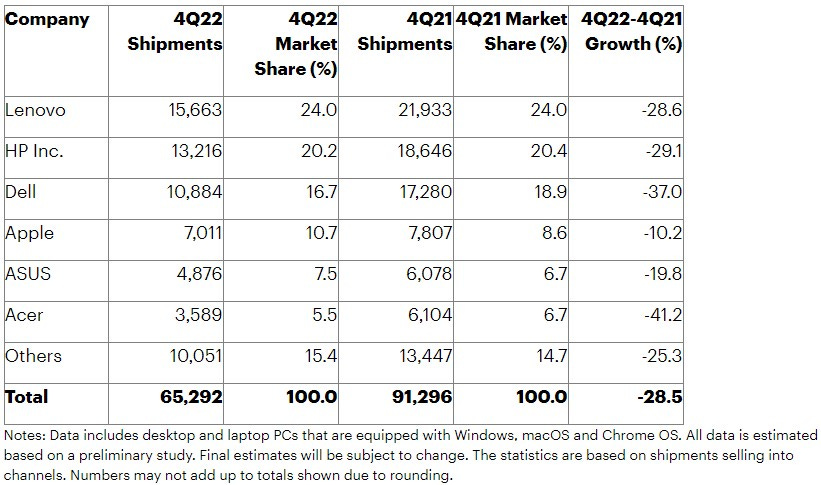 Source: Gartner
Thematic net flows split (excluding ETFs)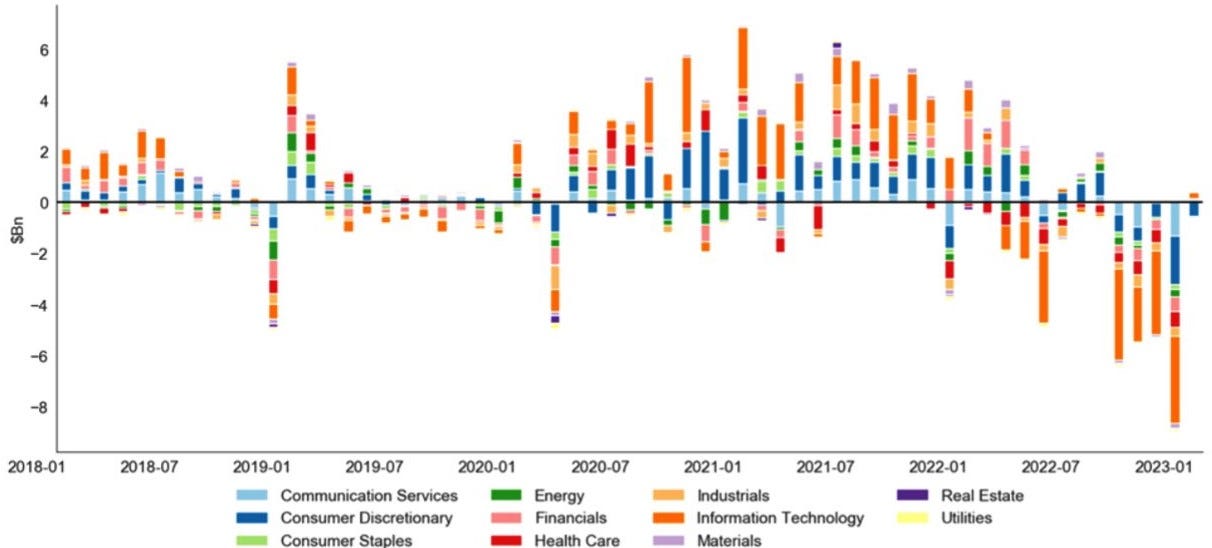 Source: JP Morgan, @wallstjesus
Performance of non-profitable tech stocks (US)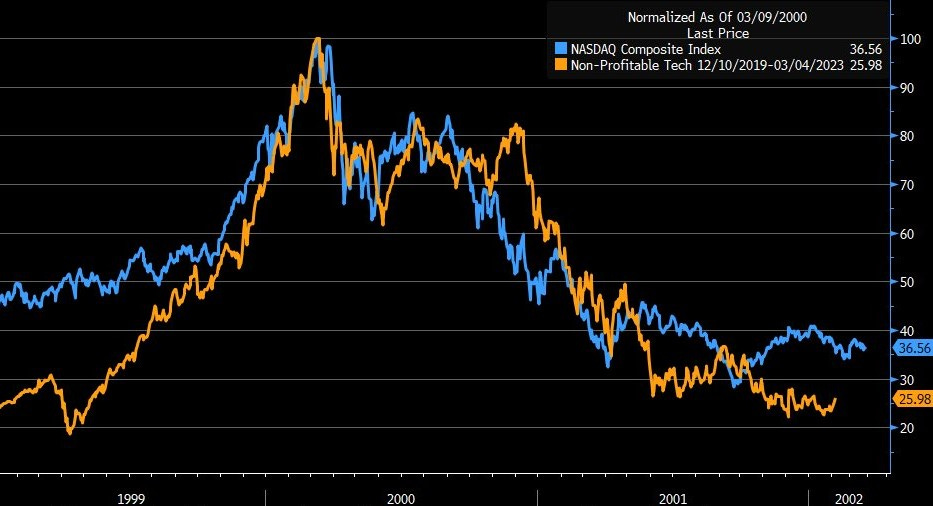 Source: Charles Schwab's @LizAnnSonders, Bloomberg
Price-to-sales for VC-backed IPOs (US)
Source: Pitchbook, Morningstar, @macroalf
US Equity Risk Premium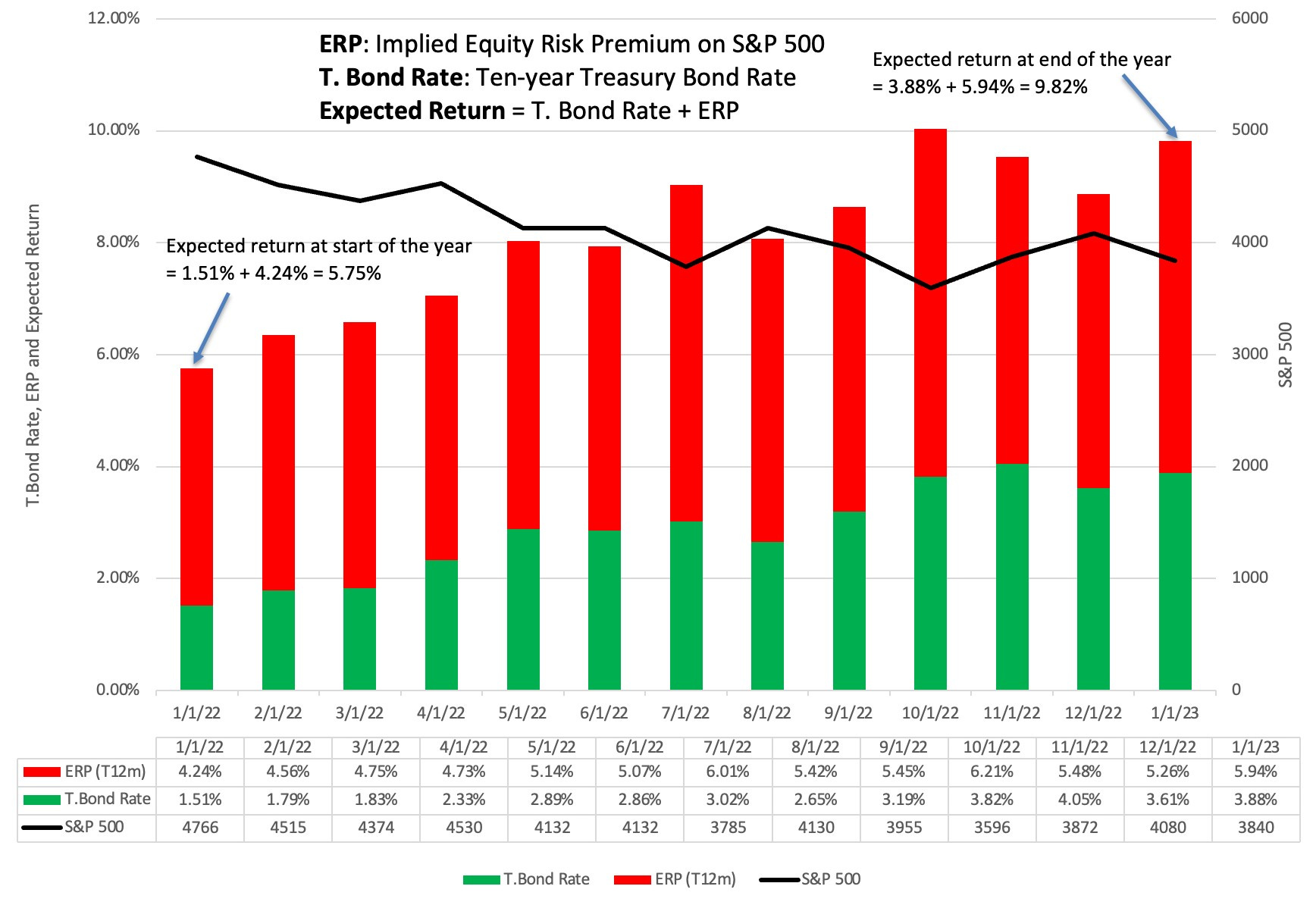 Source: Aswath Damodaran
The last of the negative yielders
Source: Bloomberg
When US inflation has spiked above 5%, Fed Funds Effective Rate has had to follow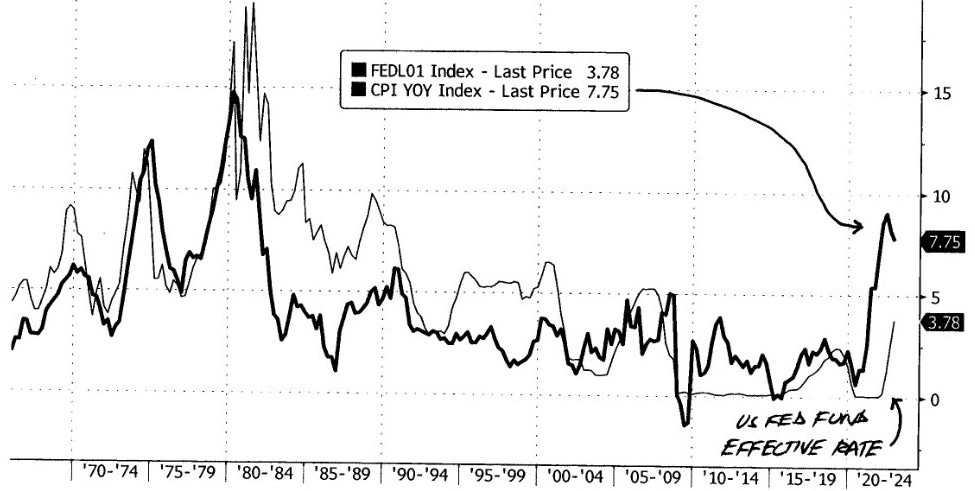 Source: CLSA via @nomad_cap
Fed Funds Rate - Market Expectations v Fed Projections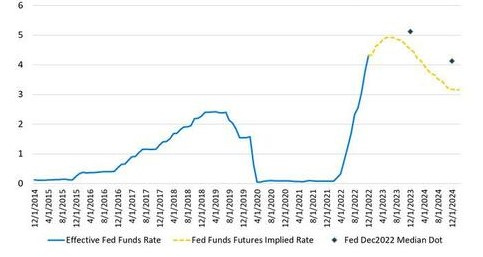 Source: DoubleLine
Australian home prices slide as borrowing costs surge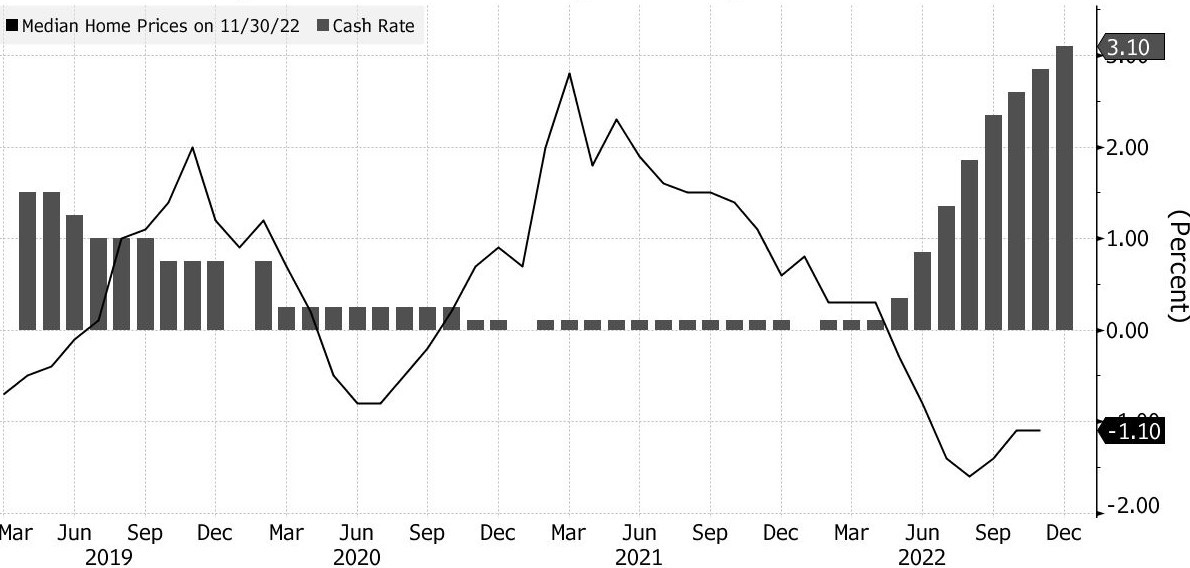 Source: CoreLogic, RBA, @C_Barraud
US credit card interest rates surge 
Source: FRED, Blockworks
US personal savings rate hit the lowest level on record in late 2022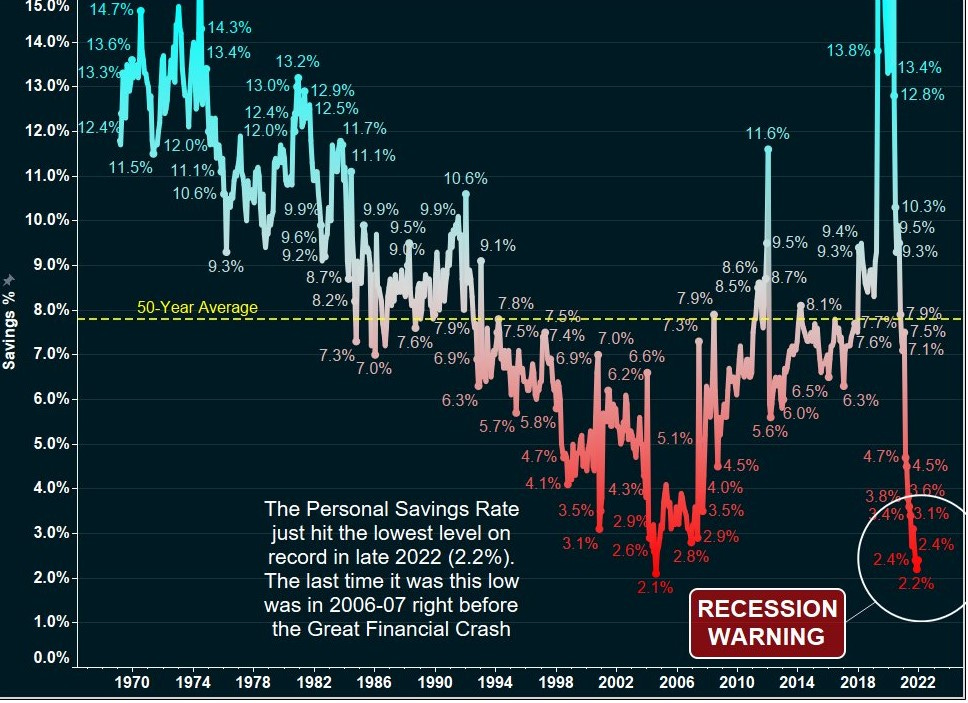 Source: re:venture consulting
Interest expense on US public debt outstanding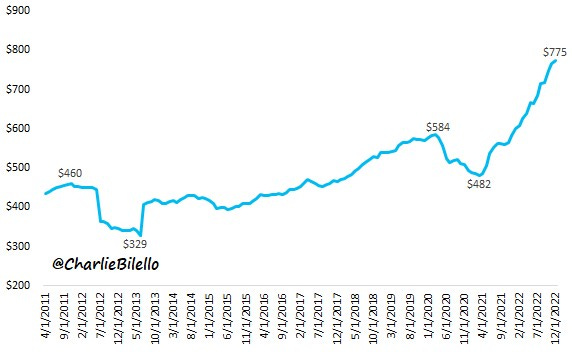 Source: @CharlieBilello
US S&P 1500 EPS revisions by sector - the sptread between positive and negative
 Source: Bespoke Investment Group
S&P 500 quarterly earnings growth - estimates and actuals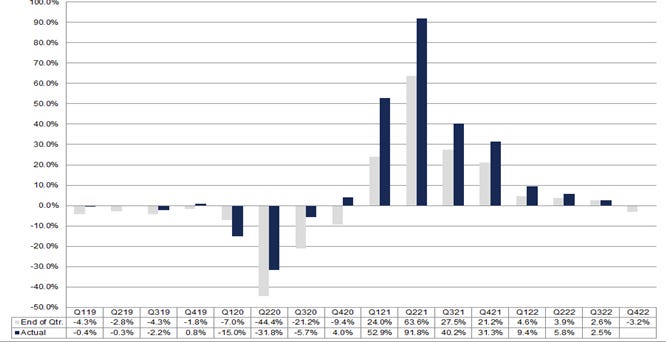 Source: FactSet
The ozone layer is healing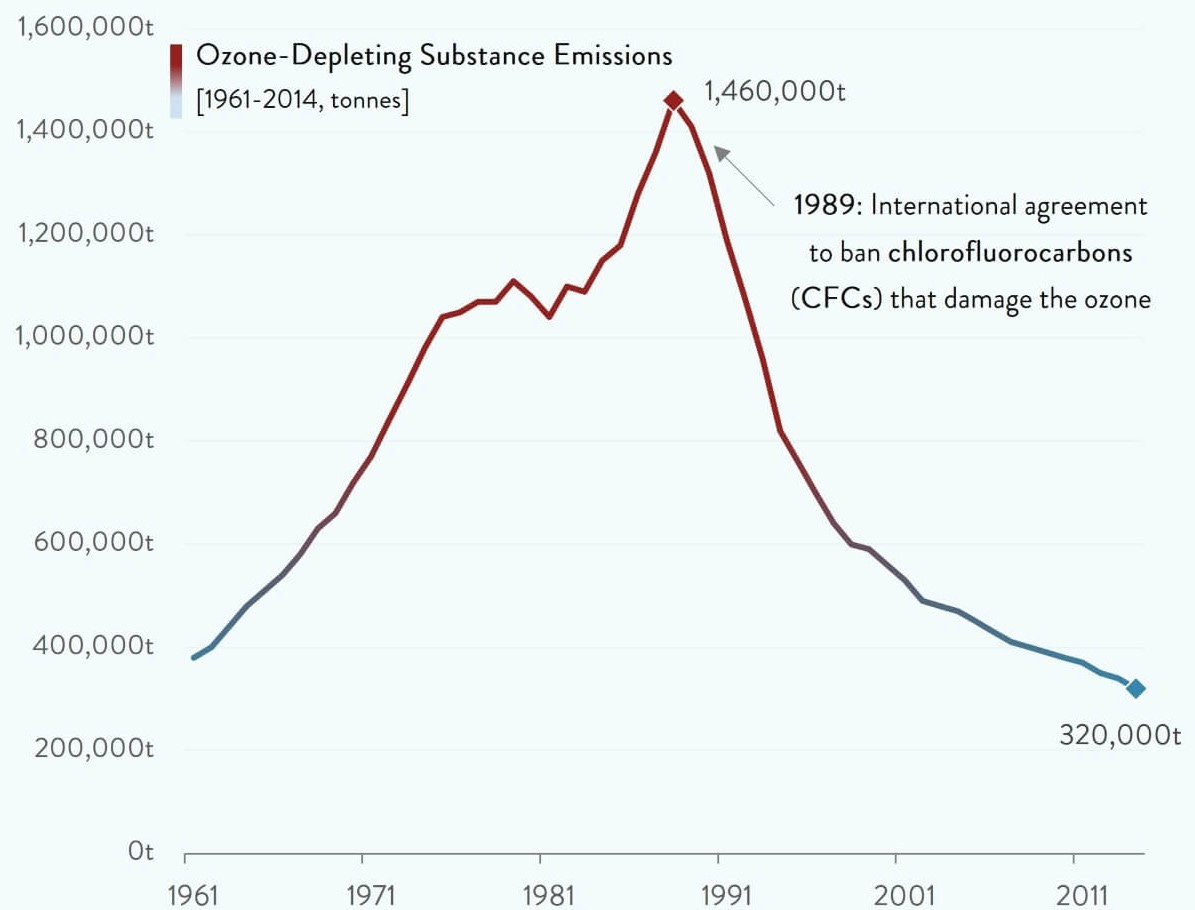 Source: Hegglin et al, Chartr
January Edition
Nothing in this blog constitutes investment advice - or advice in any other field. Neither the information, commentary or any opinion contained in this blog constitutes a solicitation or offer by Equitable Investors Pty Ltd (Equitable Investors) or its affiliates to buy or sell any securities or other financial instruments. Nor shall any such security be offered or sold to any person in any jurisdiction in which such offer, solicitation, purchase, or sale would be unlawful under the securities laws of such jurisdiction.
The content of this blog should not be relied upon in making investment decisions. Any decisions based on information contained on this blog are the sole responsibility of the visitor. In exchange for using this blog, the visitor agree to indemnify Equitable Investors and hold Equitable Investors, its officers, directors, employees, affiliates, agents, licensors and suppliers harmless against any and all claims, losses, liability, costs and expenses (including but not limited to legal fees) arising from your use of this blog, from your violation of these Terms or from any decisions that the visitor makes based on such information.
This blog is for information purposes only and is not intended to be relied upon as a forecast, research or investment advice. The information on this blog does not constitute a recommendation, offer or solicitation to buy or sell any securities or to adopt any investment strategy. Although this material is based upon information that Equitable Investors considers reliable and endeavours to keep current, Equitable Investors does not assure that this material is accurate, current or complete, and it should not be relied upon as such. Any opinions expressed on this blog may change as subsequent conditions vary.
Equitable Investors does not warrant, either expressly or implied, the accuracy or completeness of the information, text, graphics, links or other items contained on this blog and does not warrant that the functions contained in this blog will be uninterrupted or error-free, that defects will be corrected, or that the blog will be free of viruses or other harmful components. Equitable Investors expressly disclaims all liability for errors and omissions in the materials on this blog and for the use or interpretation by others of information contained on the blog