10k Words 
Equitable Investors
May 2022
---
The drawdown in tech stocks remains in focus with carts from chrtr and a16z, while MarketWatch highlighted the inside selling that occured in 2021's tech IPOs ("You bought. They sold"). Retail investors who had a great time trading in 2020 and 2021 may have lost all that they gained, Morgan Stanley has estimated. The crypto space hasn't worked for punters either as correlation with tech stocks surges, as the Daily Shot charts, and the "hot" NFT space cools rapidly, as charted by NonFungible. Finally, fund managers surveyed by Bank of America have returned from briefly worrying about the Ukraine situation as their biggest tail risk to worrying about inflation and the interest rate environment.
Nasdaq Composite Drawdowns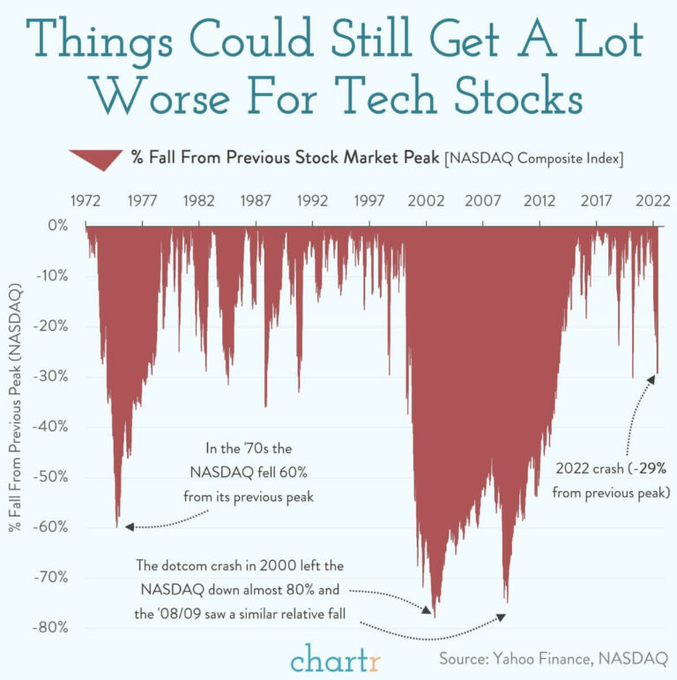 Source: chartr, @_Prathna
Forward Revenue Multiples on Listed Software Companies
Source: a16z, CapitalIQ
Insider sales at companies that went public in 2021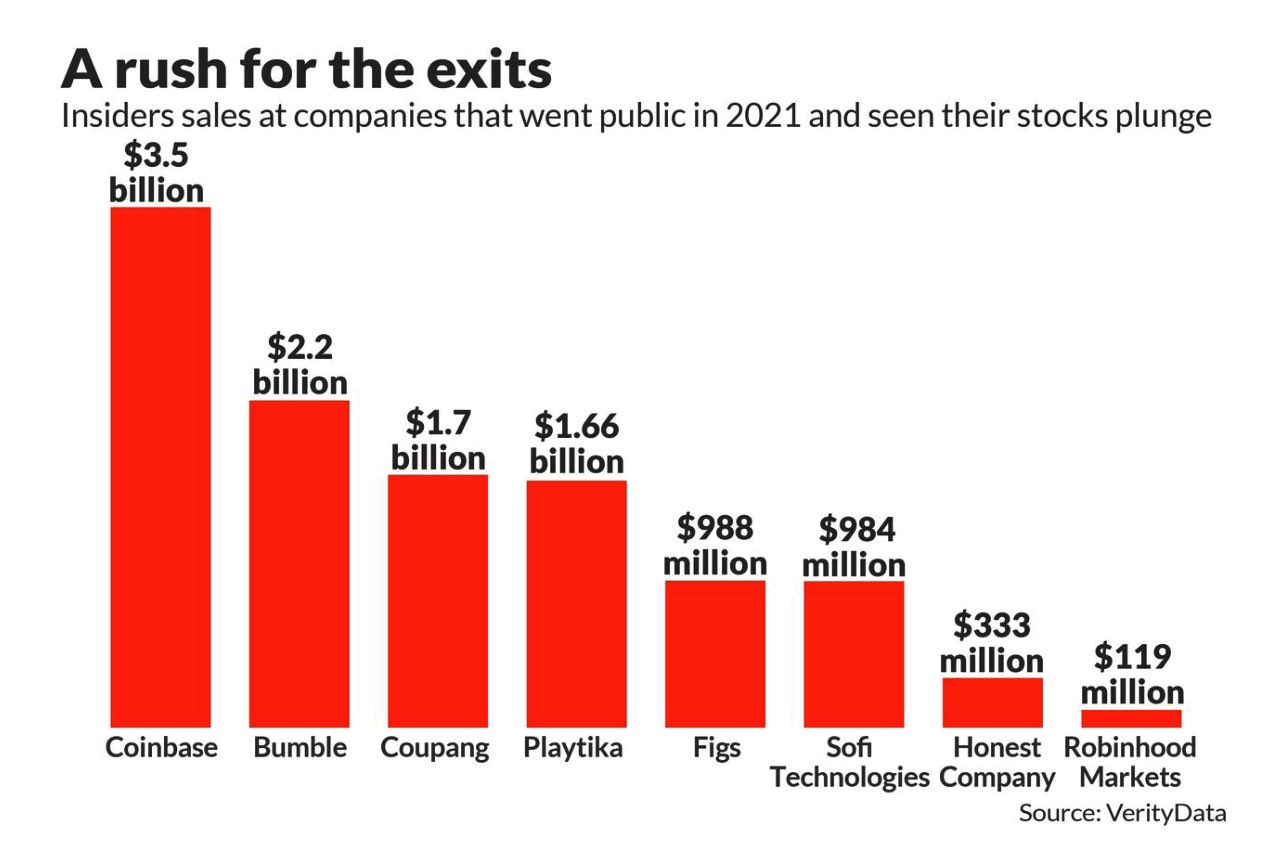 Source: MarketWatch, VerityData
Estimated gains and losses from US retail flows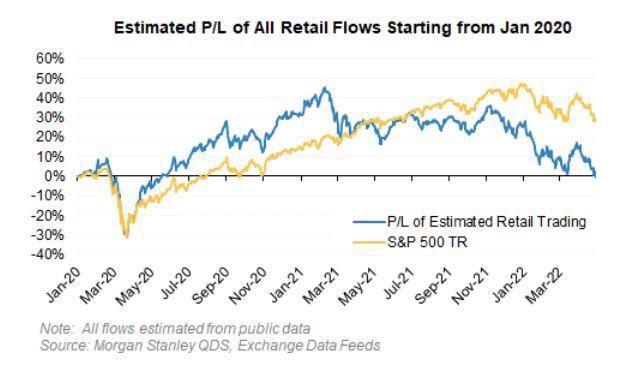 Source: Morgan Stanley, @trengriffin
Correlation between Nasdaq and Bitcoin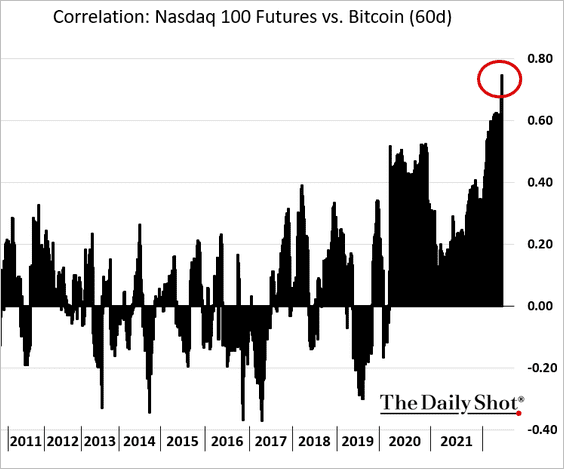 Source: The Daily Shot
Number of Non-Fungible Tokens (NFTs) sold
Source: NonFungible.com
May 2022 Fund Manager Survey for "biggest tail risk"
Source: Bank of America
May Edition
---
Funds operated by this manager:
Equitable Investors Dragonfly Fund
---
Disclaimer
Nothing in this blog constitutes investment advice - or advice in any other field. Neither the information, commentary or any opinion contained in this blog constitutes a solicitation or offer by Equitable Investors Pty Ltd (Equitable Investors) or its affiliates to buy or sell any securities or other financial instruments. Nor shall any such security be offered or sold to any person in any jurisdiction in which such offer, solicitation, purchase, or sale would be unlawful under the securities laws of such jurisdiction.
The content of this blog should not be relied upon in making investment decisions.Any decisions based on information contained on this blog are the sole responsibility of the visitor. In exchange for using this blog, the visitor agree to indemnify Equitable Investors and hold Equitable Investors, its officers, directors, employees, affiliates, agents, licensors and suppliers harmless against any and all claims, losses, liability, costs and expenses (including but not limited to legal fees) arising from your use of this blog, from your violation of these Terms or from any decisions that the visitor makes based on such information.
This blog is for information purposes only and is not intended to be relied upon as a forecast, research or investment advice. The information on this blog does not constitute a recommendation, offer or solicitation to buy or sell any securities or to adopt any investment strategy. Although this material is based upon information that Equitable Investors considers reliable and endeavours to keep current, Equitable Investors does not assure that this material is accurate, current or complete, and it should not be relied upon as such. Any opinions expressed on this blog may change as subsequent conditions vary.
Equitable Investors does not warrant, either expressly or implied, the accuracy or completeness of the information, text, graphics, links or other items contained on this blog and does not warrant that the functions contained in this blog will be uninterrupted or error-free, that defects will be corrected, or that the blog will be free of viruses or other harmful components.Equitable Investors expressly disclaims all liability for errors and omissions in the materials on this blog and for the use or interpretation by others of information contained on the blog