Fund Monitors Pty Ltd
www.fundmonitors.com
© Copyright 2023
Printed: 08 June 2023 10:13 PM
10 Aug 2022 - Australian Secure Capital Fund - Market Update July
By: Australian Secure Capital Fund
Australian Secure Capital Fund - Market Update July
Australian Secure Capital Fund
July 2022
---
Australian residential property values fell by 1.3% in July bringing the total quarterly decline across the country to -2%. Inventory levels have also decreased significantly and have now fallen -21.40% from the mid-March peak, helping to keep overall inventory levels low whilst on the demand side sales activity over the three months to July was -16% lower in comparison to the same period last year.
While national home sales are also falling from record highs, they are still +9.20% above the previous five-year average for this time of year. With interest rates expected to rise further, there is a good chance that the number of transacted sales will continue to fall as confidence continues to weigh on the housing sector.
On a more positive note, however, rents across the country continued to increase through July rising +0.90% for the month to be +2.80% higher for the quarter and +9.80% higher over the past 12 months.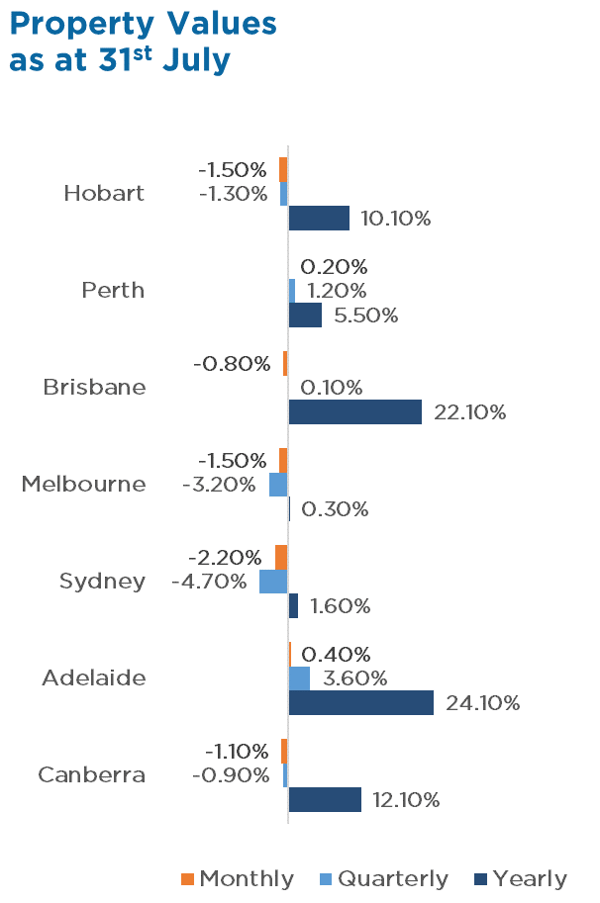 Rental market yields seem to be consistently improving with the most rapid recoveries in the Sydney and Melbourne unit markets. Furthermore, financial markets and some economic forecasters are now also expecting interest rate cuts through the second half of next year which means the interest rate hiking cycle may be over sooner than expected.
Whilst we, therefore, expect that property prices will retreat further we believe that the declines will be much more subdued than most economic forecasters had predicted at the start of the year particularly as interest rates stabilise over the coming months, residential property yields continue to improve and incomes continue to rise.
Source: CoreLogic, Report, Article 1, Article 2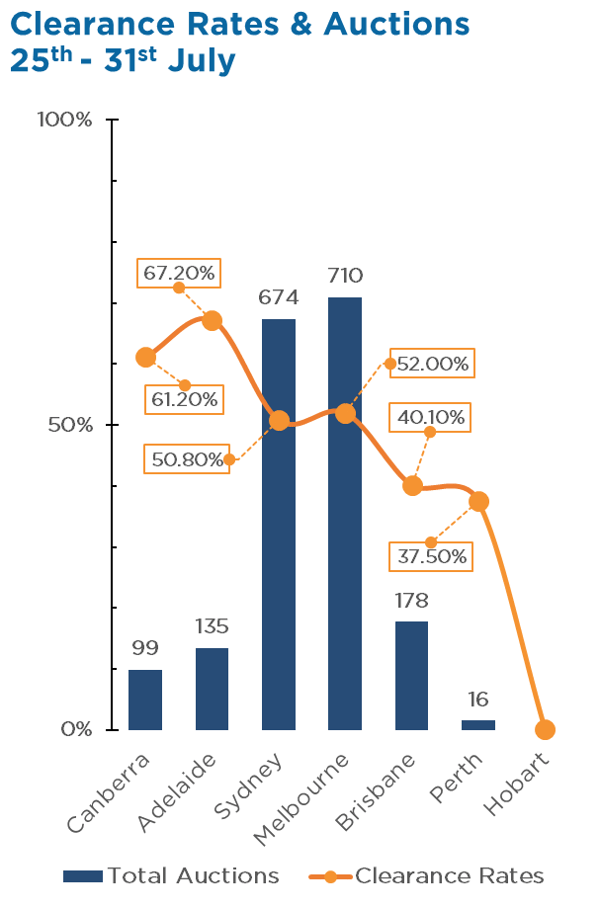 The weighted average clearance rate across the country this week was higher than last year at 51.9% (+11.80%). Other cities across the board also achieved rates higher than last year, with Sydney up by 2.70% from last year.
Buying activity has been picking up in the smaller capitals with clearance rates up by 9.20% from last year.
Source: CoreLogic
Hitting it out of the Park
Tennis Australia CFO Craig Tiley has broken a record in Melbourne's Aspendale suburb by spending $13 million for a trophy home on the beach. The property is 2000 sqm in size and obliterated the original $8.5 million to $9 million price guide. The Jon Friedrich designed home, which includes a heated swimming pool, was also offered with a price guide of $6.4 million to $6.75 million through Kay & Burton Real Estate
Rising Reserve Rates
Deputy Governor Michelle Bullock indicated earlier in July that the Reserve bank is likely to continue raising interest rates. She noted that the intention of the RBA is not necessarily to help or hinder the economy but instead to provide a 'neutral' interest rate. Most borrowers will be well-placed during this time as high debts are buoyed with equally high assets. "The accumulated stock of these savings could help to ease the transition to higher mortgage payments for many borrowers, allowing them to sustain higher levels of consumption than otherwise.", Ms Bullock commented.
The ART of the Deal
Australian superannuation fund Australian Retirement Trust (ART) has brokered a deal with the government-owned Queensland Investment Corporation (QIC) to provide $500 million dollars in funding for the development of over 1200 affordable homes in Queensland. The move is the first time ART has pursued a social, issue-focused investment since it was founded this year by a merger between Sunsuper and QSuper.
Source: Australian Financial Review, Article 1, Article 2, Article 3
---
Funds operated by this manager:
ASCF High Yield Fund, ASCF Premium Capital Fund, ASCF Select Income Fund