Big opportunities for small cap investors in
IPOs and secondary placements
Firetrail Investments
January 2022
---
2021 was an exciting year for initial public offerings (IPOs) and placements. 55 companies with an offer price greater than A$20 million made their debut on the ASX during the year. Up a staggering 62% from the year before! Secondary placements experienced a more modest increase, up 6% from 2020.
Most equity capital market (ECM) activity took place in the small cap end of the market. Providing a material opportunity for institutional small cap managers like Firetrail to add value for their investors.
In this article, we analyse the success of small cap IPOs and placements in 2021, provide key takeaways for investors, and what to expect in capital markets in 2022. We conclude that corporate activity will remain elevated in small companies throughout 2022. Creating meaningful opportunities for investment managers willing to do the work to identify the best opportunities.
IPOs and placements outperformed in 2021
It wasn't just the sheer number of IPOs and placements that broke records in 2021. Together, new ASX-listings raised a total of A$12 billion! Among them were a record number of billion-dollar floats, such as APM, SiteMinder and PEXA.
On the first day of trading, these IPO companies outperformed the market by an average of 20%. However, we did see this outperformance moderate by the end of the year.
We saw the inverse occur in the market for secondary offerings. Average day one performance hovered around 10.1%. While calendar year performance rose to 15.4%! The total amount raised by secondary offers was A$37.7 billion.
But that doesn't seem like an accurate reflection of performance from a market perspective.
Careful stock selection is critical
If we adjust for the size of the raise, the story changes. We see big declines for first day and calendar year performance for both IPOs and secondary placements. Suggesting that the relative performance is skewed by a handful of big winners.
In the IPO space, performance was dominated by a few key players. DGL, a chemical manufacturing and storage group, and Trajan, an analytical science and devices company, experienced greater than 100% returns in the calendar year.
To account for this asymmetry, we took the median performance for the calendar year. The median return for IPO stocks was just -4%. Providing a more accurate reflection of capital market performance.
Clearly, an ability to pick winners is key to harnessing value from corporate activity. The chart below compares the relative performance of IPOs that raised more than $50 million. While average performance was strong, there were more losers than winners.
Through deep fundamental analysis, Firetrail were able to pick the winners this year. The median return from our IPO participation was 18% for the 2021 calendar year (shaded in grey in Figure 1).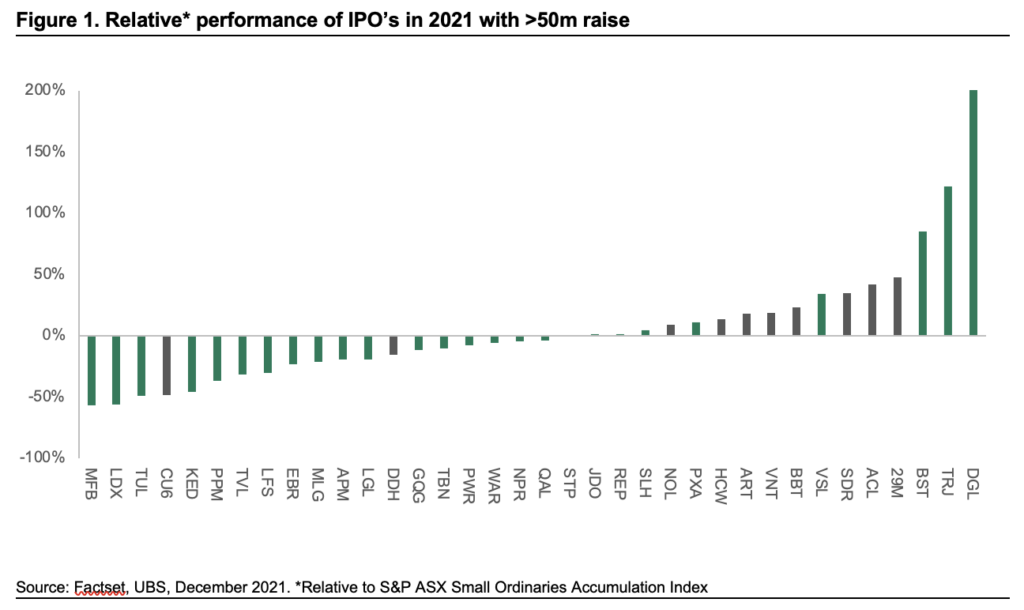 Careful selection is also key for managers trying to maximise returns from secondary placements. In 2021, we saw a wide dispersion in results.
The best returning secondary issuances were in companies in need of balance sheet repair. The average placement in this category delivered 33% excess. In many instances we observed that the 'raise' was already priced in by the market. Hence recapitalisation was the catalyst to refocus the market on business fundamentals.
The market also rewarded companies raising capital to grow organically far more than M&A. Raisings for growth dominated the market (Figure 3). In contrast, there were few M&A bargains in 2021 due to intense competition for assets. Many companies were willing to pay listed multiples for strategic acquisitions.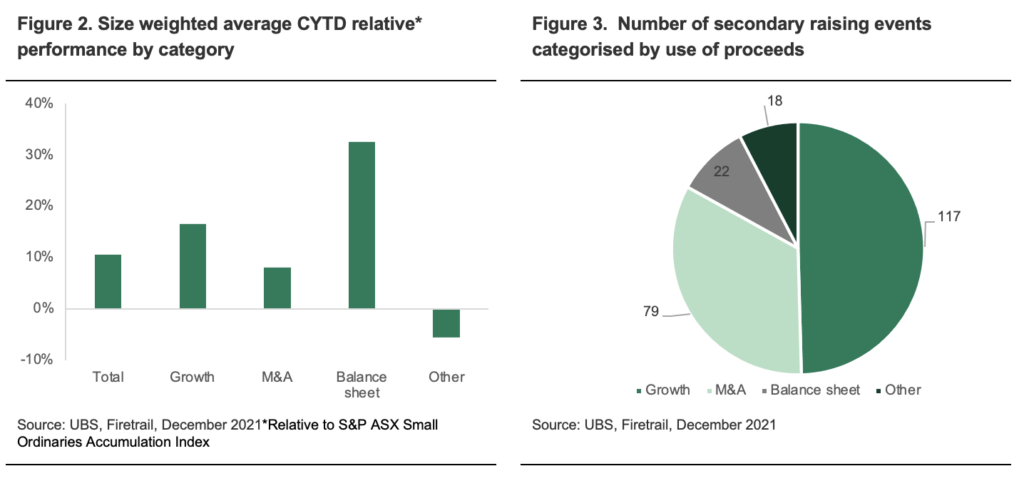 Opportunities will remain elevated in small caps in 2022
ECM events are a consistent source of opportunity and strong returns for small cap investors. Access to these opportunities is key, and the Firetrail team have a strong track record of leveraging our corporate relationships and fundamental expertise to access attractive corporate opportunities for our investors. Since the inception of the Firetrail Team's Small Companies strategy in 1998, previously the Macquarie Australian Small Companies Fund, these events have contributed an average 20% of the total excess returns, or ~3% p.a.
Looking ahead to 2022, low interest rates and high valuations will continue to encourage companies to raise capital. We expect ECM activity to remain elevated and to continue delivering material opportunities for small cap investors like Firetrail.
Conclusion
2021 was a year of frantic ECM activity and we see no sign of this abating as we move through 2022. As small cap investors, we are excited by the opportunity and potential returns offered by IPOs and secondary placements in the coming year. Our experience shows that meaningful returns are out there if managers are willing to do the work to find them!
---
Funds operated by this manager:
Firetrail Absolute Return Fund, Firetrail Australian High Conviction Fund
---
Disclaimer
This article is prepared by Firetrail Investments Pty Limited ('Firetrail') ABN 98 622 377 913 AFSL 516821 as the investment manager of the Firetrail Australian Small Companies Fund ARSN 638 792 113 ('the Fund'). This communication is for general information only. It is not intended as a securities recommendation or statement of opinion intended to influence a person or persons in making a decision in relation to investment. It has been prepared without taking account of any person's objectives, financial situation or needs. Any persons relying on this information should obtain professional advice before doing so. Past performance is for illustrative purposes only and is not indicative of future performance.
Pinnacle Fund Services Limited ABN 29 082 494 362 AFSL 238371 ('PFSL') is the product issuer of the Fund. PFSL is a wholly-owned subsidiary of the Pinnacle Investment Management Group Limited ('Pinnacle') ABN 22 100 325 184. The Product Disclosure Statement ('PDS') and the Target Market Determination ('TMD') of the Fund is available at www.firetrail.com. Any potential investor should consider the PDS before deciding whether to acquire, or continue to hold units in, the Fund.
Whilst Firetrail, PFSL and Pinnacle believe the information contained in this communication is reliable, no warranty is given as to its accuracy, reliability or completeness and persons relying on this information do so at their own risk. Subject to any liability which cannot be excluded under the relevant laws, Firetrail, PFSL and Pinnacle disclaim all liability to any person relying on the information contained in this communication in respect of any loss or damage (including consequential loss or damage), however caused, which may be suffered or arise directly or indirectly in respect of such information. This disclaimer extends to any entity that may distribute this communication.
The information is not intended for general distribution or publication and must be retained in a confidential manner. Information contained herein consists of confidential proprietary information constituting the sole property of Firetrail and its investment activities; its use is restricted accordingly. All such information should be maintained in a strictly confidential manner.
Any opinions and forecasts reflect the judgment and assumptions of Firetrail and its representatives on the basis of information available as at the date of publication and may later change without notice. Any projections contained in this presentation are estimates only and may not be realised in the future.
Unauthorised use, copying, distribution, replication, posting, transmitting, publication, display, or reproduction in whole or in part of the information contained in this communication is prohibited without obtaining prior written permission from Firetrail. Pinnacle and its associates may have interests in financial products and may receive fees from companies referred to during this communication.
This may contain the trade names or trademarks of various third parties, and if so, any such use is solely for illustrative purposes only. All product and company names are trademarks™ or registered® trademarks of their respective holders. Use of them does not imply any affiliation with, endorsement by, or association of any kind between them and Firetrail.
---