How Amazon founder Jeff Bezos' shareholder letters
made me a better investor - 7 lessons learnt
Montaka Global Investments
01 December 2021
---
Many investors have poured over Warren Buffett's letters to Berkshire Hathaway's shareholders to glean insights from the investment legend.
But another investment legend, Baillie Gifford's James Anderson, said something interesting: that an investor today needed to read not just Buffett's words, but also the shareholder letters of Amazon founder, Jeff Bezos.
As Buffett himself has said, "I've never seen any person develop two really important industries at the same time. Jeff Bezos is the most remarkable business person of our age."
In Amazon, Bezos has created an online retailing and cloud computing behemoth that dominates many markets and now has a market cap reaching towards US$2 trillion.
I took note of Anderson's tip and immersed myself in Bezos's shareholder letters, getting inside the great man's thinking.
I realised that if I could understand the secret to Bezos and Amazon's success, I will be much better placed to identify and ride the 'next Amazon': the next company that revolutionises an industry and delivers ten or even 100-bag returns for shareholders.
Below are 7 key lessons that emerged.
The importance of becoming the most customer-centric company
From the start, Bezos has famously placed this goal at the centre of Amazon, which it describes as part of its 'Day 1' culture. Amazon relentlessly puts the customer first. When it develops a product, it works backward from the customer's needs. New products are derived from a customer problem, even problems customers don't realise they have. Many companies develop a product and only then search for customers.
"Customers are always beautifully, wonderfully dissatisfied, even when they report being happy and business is great. Even when they don't yet know it, customers want something better, and your desire to delight customers will drive you to invent on their behalf," Bezos wrote in 2016.
The result is that the company has spent decades consistently lowering prices, adding new features, and innovating on customers' behalf. Amazon, for example, launched its Prime subscription service, which began with fast, free shipping and has expanded to offer video, music, gaming, reading, exclusive deals and more, all at no extra cost. And AWS (Amazon Web Services) Trusted Advisor, which Amazon launched in 2012, scans AWS customer account infrastructure against best practices and notifies the customer where they can improve performance, enhance security, monitor service quotas, or reduce costs. Essentially, Trusted Advisor encourages you to pay Amazon less money.
Bezos also said in his 1998 letter: "We hold as axiomatic that customers are perceptive and smart, and that brand image follows reality and not the other way around."
This insight is vital because it prevents Amazon from falling into the trap of extracting egregious profits from customers and ultimately losing them to rivals. Apple, for example, is taking value from developers via its App Store. As a result, an increasing number of developers are moving to blockchain-based projects where they control their own destiny and participate in all the economic upside of their work. A disgruntled value chain will naturally erode Apple's app ecosystem that customers love.
By contrast, Facebook parent Meta has just announced they will spend at least $10 billion per year building metaverse platforms over the next decade, choosing to innovate alongside developers on behalf of their future customers instead of extracting greater profits today.
We seek to own businesses with healthy and expanding value chains, from the supply chain down to the customer. This is fundamental to success but easily exploited thereafter. Many of our top technology holdings, such as Amazon, Meta, Unity and Microsoft, have built enormously successful businesses, but they continue to reinvest in their value chain to retain their powerful and growing ecosystems.
The power of flywheels
In his 2015 shareholder letter, Bezos commented that, "we've dropped [AWS] prices 51 times, in many cases before there was any competitive pressure to do so."
Amazon can do this because of its 'scale economics shared' (SES) model where economies of scale allow the company to lower prices and boost its market share in the long term.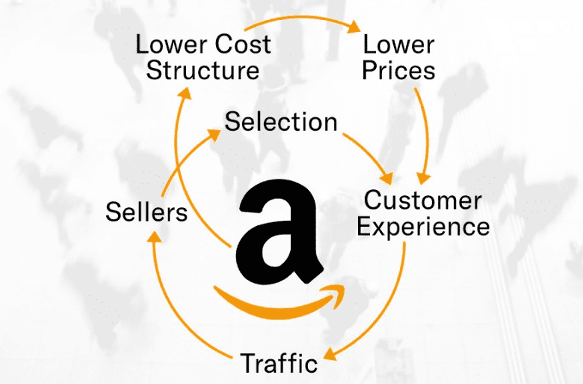 You can see the model in the Amazon.com marketplace 'flywheel' above, where consistently sharing value created with customers in the form of lower prices keeps the flywheel spinning.
In his book, 'Good to Great', Jim Collins says building a great company is like a flywheel.
"There is no single defining action, no grand program, no one killer innovation, no solitary lucky break, no miracle moment. Rather, the process resembles relentlessly pushing a giant, heavy flywheel, turn upon turn, building momentum until a point of breakthrough, and beyond."
Amazon has taken this model and applied it to its cloud business, AWS, which was launched in 2006, and revolutionised modern business by starting the cloud computing era. The goal is always to increase scale, and today AWS leads the market with over 30% share of cloud computing and the business is projected to earn around $60 billion in revenues in 2021.
As investors, we get excited when we find businesses with powerful flywheels such as Amazon's SES model, understanding that once a flywheel is in motion it is increasingly difficult to slow down.
The value of transforming internal services into global platforms
Another key to Amazon's wild success has been its ability to develop products for internal use then repurpose them into global platforms.
Amazon developed AWS to solve significant inefficiencies between the company's application engineers and network engineers. Amazon smartly realised that every business was going to need a scalable cloud solution like their own, so AWS was repurposed for general use and sold to customers.
Amazon is uniquely able to develop and test internal products across their billions of customers, 1.5 million employees, and all the data that produces. This gives us confidence in their ability to continue innovating successfully in the future, with projects such as health and middle-mile logistics looking similarly exciting today.
The willingness to take bets
Amazon has an unusual willingness to make large bets on many long-term projects that have a small chance at an outsized payoff.
Bezos, in his 2015 letter, says: "Outsized returns often come from betting against conventional wisdom, and conventional wisdom is usually right. Given a ten percent chance of a 100 times payoff, you should take that bet every time. But you're still going to be wrong nine times out of ten."
Amazon's latest big bets that are likely to emerge as successes are artificial intelligence (AI) and machine learning (ML) applications. Amazon is using ML across its vast array of internal business data sets, which has helped them to build natural language processing and Internet-of-Things (IoT) products, such as virtual assistant, Alexa. They also now sell these as pre-packaged ML models to customers who apply them to their own data to improve processes.
A culture of builders
"From very early on in Amazon's life, we knew we wanted to create a culture of builders - people who are curious, explorers. They like to invent. Even when they're experts, they are "fresh" with a beginner's mind. They see the way we do things as just the way we do things now. A builder's mentality helps us approach big, hard-to-solve opportunities with a humble conviction that success can come through iteration: invent, launch, reinvent, relaunch, start over, rinse, repeat, again and again. They know the path to success is anything but straight."
Bezos wrote this in his 2018 shareholder letter. This mindset is fundamental to achieving long-term success. Many great businesses get too large and fall into what Bezos would call a 'Day 2' mindset, where businesses fail to embrace powerful trends quickly and end up fighting the future. Instead, by hiring for a culture of builders, you achieve an internal drive that embraces change and continues to invent, invest and celebrate hurdles that may be tiny relative to Amazon but are enormous for the teams working on them, inspiring them to build for the long-term.
Creating Earth's best employer and Earth's safest place to work
"If you want to be successful in business (in life, actually), you have to create more than you consume. Your goal should be to create value for everyone you interact with. Any business that doesn't create value for those it touches, even if it appears successful on the surface, isn't long for this world."
In his final letter before stepping down from CEO to Chairman this year, Bezos challenged Amazon to be 'Earth's best employer' and 'Earth's safest place to work', alongside 'Earth's most customer-centric company'.
As the businesses has grown, Amazon has become increasingly scrutinized for their effect on the world (which I would argue has been extraordinarily positive), over and above their effect on customers.
Amazon has long held a minimum wage well above competitors and recently increased it by another 20% to $18 per hour. They offer programs such as Career Choice, where they pre-pay 95% of employees' tuition to take courses for in-demand fields, even if that leads them into a non-Amazon career.
Amazon is making progress toward its goal of 100% renewable energy by 2025. Less than two years after signing their Climate Pledge, 53 companies representing almost every sector of the economy have signed up too. Every quarterly earnings press release dedicates pages to their progress on ESG initiatives. Amazon is making the world a better place.
Making employees owners
In his very first letter in 1997, Bezos noted how important it is that employees are owners of their business.
"We know our success will be largely affected by our ability to attract and retain a motivated employee base, each of whom must think like, and therefore must actually be, an owner."
This letter gets attached to every subsequent letter to reinforce its importance.
Investing in owner-operator businesses gives us a lot of confidence as shareholders. These leaders are aligned with us and tend to make decisions that drive long-term outcomes rather than working to meet the next quarter or year's expectations.
Insights into one of the great minds
Jeff Bezos' shareholder letters offer insight into one of the great minds of the 21st century. Bezos has transformed the world in multiple ways and still has incredible ambitions to do much more. These lessons apply far beyond Amazon and teach us about entrepreneurship, business building, capital allocation, success, failure, how to care for the world and humanity, and the sheer human potential when driven and focused teams work together. All of these inform our decisions when building Montaka as a business for our clients, and when selecting the best investments to make and own alongside you.
Written By Lachlan Mackay
---
Funds operated by this manager: