---
The three banks with September financial years - ANZ, NAB and Westpac - are almost back to normal. Cash profits and return on equity are still below FY19 levels, but it is clear that the COVID-19 crisis has not left any scars on the banking system. Most importantly, the banks' capital positions are once again "unquestionably strong": an average Common Equity Tier 1 (CET1) ratio of 12.7%, up from 11.4% in FY20, means that all the banks can afford share buybacks.

So far, however, organic growth is modest. Most of the recovery in cash earnings came from the $820m writeback of provisions built up last year. The banks are still paying "customer remediation costs" for their crimes of fees for no service and other horrors revealed by the Hayne Royal Commission, but these should end in FY22. The ratio of operating costs to income is still too high, and the banks will need another two to three years to achieve their cost reduction targets.
The fundamental problem is that banking is no longer as profitable as it used to be, thanks to increased competition, tighter regulation, and higher capital requirements. The KPMG chart below shows how the banks' average net interest margin (NIM) has slid steadily downward, from 3.0% two decades ago to only 1.86% now.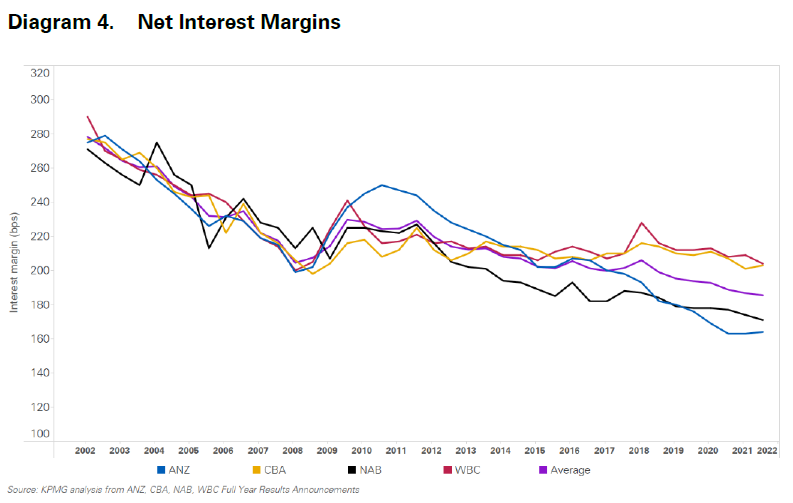 In order to preserve their margins, the banks need to simultaneously cut their operating costs and increase their capital spending to improve their processes. CBA is leading the pack in both of these objectives, which is why it is the only one of the Big Four to have returned to its 2016 share price. Shareholders of the other three banks are well aware of the size of their capital losses over the last five years. This is also why CBA's dividend yield is less than 4.0% while the other three yield between 4.5% and 5.0%.
FY22 results are likely to be similar to this year - modest organic growth, with profits buoyed by provision writebacks. But there will be complications. The first is that wholesale funding costs will increase as US and Australian interest rates rise, and the banks will lose some of the deposit inflow which was triggered by the COVID-19 panic. The second is that the Australian regulators will probably impose macroprudential controls to slow the pace of house price rises and to discourage borrowers from taking on excessive debt. The third is that the rise in CPI inflation will affect different sectors of the Australian economy in different ways, and may put an end to the improvement in loan delinquency rates.
Our analysis suggests that the banks are fairly priced at present, as a sector with low earnings growth but also low risk. In the long run, the recent changes in industry structure will mean that bank earnings will grow more slowly than most companies in the S&P/ASX200 Index, making the banks attractive for income rather than capital growth.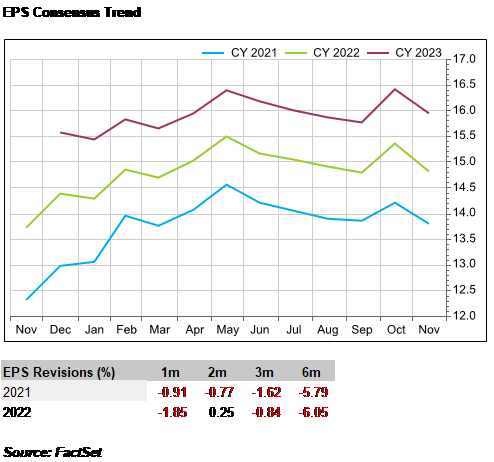 ANZ's cash profit of $6.2bn (218c per share) slightly exceeded market expectations, because stronger markets income offset a 4% increase in costs as well as ongoing customer remediation costs. The full-year dividend of 142c was higher than 60c in FY20 but still below 160c in FY19. During the latest half-year, ANZ's residential loan book declined by 1% against system growth of 4%. This disparity highlights the inadequacies of ANZ's mortgage processing systems, which the bank has acknowledged and is devoting capex to improving. FY22 earnings and dividends are expected to be flat, but ANZ is trading on a lower P/E than the other three, so the medium term may see some price gains through re-rating.
Commonwealth Bank's trading update for the September quarter disappointed the market, with the CBA share price falling 8%. Despite above-system loan growth, cash profit for the quarter was flat at $2.2bn and net interest margin fell significantly. A single quarter is not necessarily an indicator of the 2022 result, but it does reinforce our view that the banks face a difficult competitive environment.
NAB reported a $6.6bn cash profit (199c per share) and lifted its full-year dividend to 127c (a 64% payout ratio), which was better than 60c in FY20 but still below 166c in FY19. The result was free of notable items and other one-offs. Management indicated that future dividends would be 65% to 75% of cash earnings. During the half-year, NAB grew its gross loans and advances (GLA) as fast as system growth or faster. The bank has simplified and automated its mortgage approval process: 30% of Simple Home Loans are expected to be approved in one hour, and 60% within one day.
Westpac is lagging behind the other three big banks. FY21 cash earnings of $5.4bn (146c per share) are equivalent to a return on equity of 7.6%, well behind the Big Four average of 9.9%. Westpac's cash earnings suffered from a notable items charge of $1.6bn, and the September 2021 half year was disappointing, with expenses rising and margins falling. The FY22 dividend of 118c (an 81% payout ratio) was better than 31c in FY20 but well below 174c in FY19. The share price has fallen 9% since the result - the market clearly does not believe that Westpac will achieve its announced cost reduction targets on time.